Postponed to 7-11 December
Your Partner in Business for Wire Drawing
Quaker Houghton has made the decision to bundle its resources to become again a key supplier in the supply of state-of-the-art rod rolling and wire drawing process fluids.
Quaker Houghton will present for the first time in the world's most important trade fair for the wire and cable industry to offer our complete solutions package, including our full range of fluid products, equipment and services designed for every segment of the Wire industry.
Join our experts to experience the solutions we can provide to help your business flourish in today's competitive climate, and to celebrate the coming together of two industry leaders Quaker Houghton and the future we can provide for your business, together.
We want to be a strong partner to the cable industry, therefore we invest in optimizing wire drawing process lubrication.
Paolo Rabbia (Business Developer, Rod & Wire Lubricants)
We are ready to invest in R&D resources to develop new technologies for the future.
Peter De Bruyne (Global Business Director, Nonferrous)
YOUR PARTNERS IN SUCCESS
We are motivated to offer true value to the customers by offering unique new technologies.
Because we continually evaluate our product performance, and stay attuned to the latest changes the marketplace in order to continually improve our customer results, QUAKER HOUGHTON is back in business with the Best portfolio offering, both in Tube and Wire within other categories:
Reduction of total oil consumption
Enhanced surface quality
Increase of tool life
Reduction of total production costs
SOLUTIONS THAT OPTIMIZE PERFORMANCE
Quaker Houghton solutions are the non-ferrous industry standard, proven reliable in the most demanding environments.
Our complete range of solutions includes:
Rod rolling lubricants
Wire drawing lubricants
Sheet rolling lubricants
Cleaners
Corrosion preventatives
Post lubes
Fire-resistant hydraulic fluids
Metal forming fluids
Metal removal fluids
Post Lubricants
Quenchants
Surface treatments
Twin roll casting lubricants
COPPER WIRE DRAWING
HOUGHTO-DRAW® WD SERIES - Drawing Compound
Whether drawing copper rod, intermediate, multi-wire or fine wire, Quaker Houghton's HOUGHTO-DRAW® WD SERIES has a drawing compound with proven performance.
Our versatile line of water-dispersible compounds provides excellent lubricating properties for clean, bright wire. HOUGHTO-DRAW® WD SERIES offer the following benefits:
Excellent lubricity
Superior detergency
Cooling of dies
Wetability
Low foam properties
Good fines separation
Biostable formulations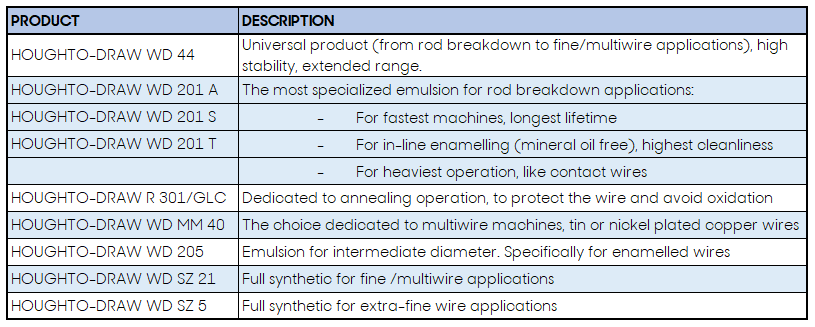 ALUMINUM WIRE DRAWING
CINDOLUBE® - Lubricants
The CINDOLUBE® line of oil lubricants is formulated with ND, a potent additive that dramatically lowers the coefficient of friction of steel-to-aluminum and aluminum-to-aluminum. It can also be used effectively on stainless steel, bronze, brass, galvanized steel, titanium and other metals. CINDOLUBE® oils provide the following benefits:
Superior surface finish
Lower friction between metals
Longer tool and die life
Reduced wear and gallings
In addition to tradition neat oil family, Quaker Houghton recently developed a new family of HOUGHTO-DRAW® WD AL compounds for water based emulsions. The purpose is to provide the best surface finishing, in term of cleanliness. The portfolio includes:

COPPER ROD ROLLING
ROLKLEEN® AND COPPERSHIELD® SERIES – Synthetic Solutions
The hot rolling of copper rod is a demanding process.
Quaker Houghton's ROLKLEEN® SERIES has proven performance and provides the following benefits:
Excellent lubrication for increased roll life and productivity
Outstanding corrosion protection leading to extended asset life
Extremely bio-stable resulting in longer solution life and reduced coolant spend
Excellent detergency proving reduced cost associated with mill cleaning
COPPERSHIELD® represents the latest step forward in technology and performance.  This development resulted from a deep process knowledge and the field expertise.
Improved corrosion inhibitor formulated into product
Maintained the better stability and performance
Improved surface quality
ALUMINUM ROD ROLLING
QUAKERAL®, CINDOL® and RODSHIELD® SERIES – High Performance Emulsions
Hot rolling emulsions for aluminum rod rolling require outstanding lubrication and excellent emulsion stability.
Quaker Houghton's QUAKERAL®, CINDOL® and RODSHIELD® emulsions provide exceptional lubrication and emulsion stability based on unique lubrication and emulsifier packages and offers the following benefits:
Outstanding lubrication for increased roll life and productivity
Extremely bio-stable resulting in increased emulsion life and reduced oil spend
Excellent surface quality meaning reduced rod downgrades and scrap
GENERAL PERFORMANCE ADDITIVES FOR LUBRICANT MAINTENANCE
After many years of experience on the field, and thanks to some strongest laboratory procedures prior to introduce a product on the market, all Quaker Houghton products has proven higher biostability, extended lifetime range, strong resistance to water hardness.
Nevertheless, we know there are cases when a special care is required, in order to correct parameters or support harder conditions.
Our laboratories can provide the right suggestion for every cases, without leaving the customer alone. All of these products have to be applied only when recommended in the right minimum amount.