Quaker Houghton Proud to Support
Seco

at Inspiration Through Innovation 2019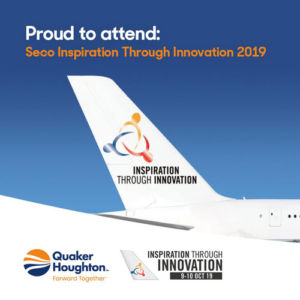 Each year, Seco Tools UK holds one of the UK's premier machining events at their Alcester facility, Inspiration Through Innovation (ITI). Established to showcase the very latest the world of manufacturing has to offer, ITI is now in its sixth year with this year's event being focussed entirely on the aerospace sector.
At Quaker Houghton, we have considerable experience within the aerospace sector, and so have decided to support the Seco ITI event as part of our commitment to advancing the industry.
We will be supplying six machine tool demonstrations, showcasing our industry-leading and globally approved HOCUT® 4260 aerospace cutting fluid, as well as our innovate QH FLUIDMIX™ and QH FLUIDWORKER™ units.
Together, these solutions combined with our industry expertise have been proven to drive progression within the aerospace industry, with our leading HOCUT® 4260 fluid in use by some of the industry's leading manufacturers such as Boeing.
The event will be held from the 9th to the 10th of October and will allow attendees to learn and meet some of the industry's driving figures including members of the Quaker Houghton UK team.
In attendance will be Jon Hoyle, UK Business and Development Manager, Rob Davey, Fluid Intelligence Solutions BDM – Northern Europe, and Jon Dilley, Divisional Business Manager. The team will be on hand to answer any questions and discuss the future of aerospace manufacturing.
Quaker Houghton is proud to support Seco at the ITI event, helping to drive key industries through collaboration with other world-leading organisations.
When?
9th October 09:00 AM – 10th October 16:00 PM
Where?
Seco Tools UK,
Adams Way,
Springfield Business Park,
Alcester, Warwickshire,
B49 6PU
More information and the sign-up form can be found at the Seco website, make sure you don't miss out as places will be taken fast.